Regular price
Was
Sale price

$219.00
Unit price
per
Out of Stock
Supercharge your weight loss journey with EHPlabs' Weight Loss Bundle - Advanced. Burn fat, boost cognition, recover muscles, and optimize sleep for ultimate results. Unlock your transformation today!
Description

Introducing EHPlabs' Weight Loss Bundle - Advanced, a premium selection of supplements designed to accelerate your weight loss journey. This comprehensive bundle includes OxyShred, Acetyl, OxyWhey, Blessed, Isopept, and OxySleep Collagen Night Time Shred, combining the power of fat burning, cognitive enhancement, muscle recovery, and quality sleep optimization.

OxyShred, the ultimate thermogenic fat burner, helps boost metabolism, increase energy, and suppress appetite. With its unique blend of ingredients, OxyShred maximizes fat burning potential and supports your weight loss goals.

Acetyl, the cognitive enhancer, enhances mental clarity, focus, and mood. Stay sharp and focused during your weight loss journey with Acetyl.

OxyWhey, a premium lean protein formula, aids in lean muscle development, recovery, and repair. With its high-quality protein sources and essential amino acids, OxyWhey supports muscle growth while promoting weight loss.

Blessed, a plant-based protein, offers a delicious and nutritious option for vegans and vegetarians. Fuel your body with Blessed to support muscle recovery and overall well-being.

Isopept, a hydrolyzed whey protein isolate, delivers fast-absorbing protein to replenish and repair muscles post-workout. With its high bioavailability, Isopept supports muscle recovery and growth, helping you achieve a leaner physique.

OxySleep Collagen Night Time Shred is a nighttime supplement that combines collagen protein, natural herbs, and minerals to support deep and restful sleep. Quality sleep is crucial for optimal weight loss and overall well-being.

Experience the power of EHPlabs' Weight Loss Bundle - Advanced and unlock your weight loss potential. Combined with a balanced diet and regular exercise, these supplements will help you reach your goals faster. Transform your body and embrace a healthier lifestyle today!

As always, consult with a healthcare professional before starting any new dietary or exercise regimen, especially if you have any pre-existing medical conditions or are taking medication. Follow the recommended usage instructions for each product and enjoy the benefits of this comprehensive weight loss bundle.
Directions

OxyShred:

For optimum results take twice daily - Mix 1 scoop with 10 ounces (295 ml) of chilled water first thing in the morning on an empty stomach, and on training days, consume 15 minutes prior to exercise.
Avoid eating or consuming a protein shake within 20 minutes after consumption for maximum absorption.

Acetyl:

Take 1 capsule of Acetyl daily with food. Consume in the morning or early afternoon to enhance cognitive function. Start with 1 capsule to assess your tolerance. Do not exceed the recommended dosage.

Beyond:

BEYOND BCAA + EAA is suitable to be taken during a workout for increased endurance, recovery and focus. We give you the choice to choose your dosage with our 30/ 60 serve option. Take one scoop or choose to take two scoops for extra focus and recovery benefits.

Blessed:

Mix 1 scoop with 240ml (6-8oz) of chilled water or almond milk in a shaker bottle. May be taken at any time of the day, either on its own (with water) or mixed into smoothies, yoghurt, juice etc.

Isopept:

ISOPEPT is best taken within 45 minutes after a workout to help replenish protein stores. Best mixed with 8oz or 240mL of water!

OxyWhey:

Take 1 scoop, 1-2 times per day. Add 1 scoop of OxyWhey to 8 oz of ice-cold water or almond milk immediately before consumption. Ensure to drink enough fluid before, during, and after exercise. Take at least 2-3 hours before or after antibiotics. Take with food, a few hours before or after taking other medications or natural health products.

OxySleep Collagen Night Time Shred:

Add 1 scoop to 240ml of hot water or your choice of milk, whisk for 30 seconds or until ingredients are well combined

Do not consume more than 1 serving a day.
View full details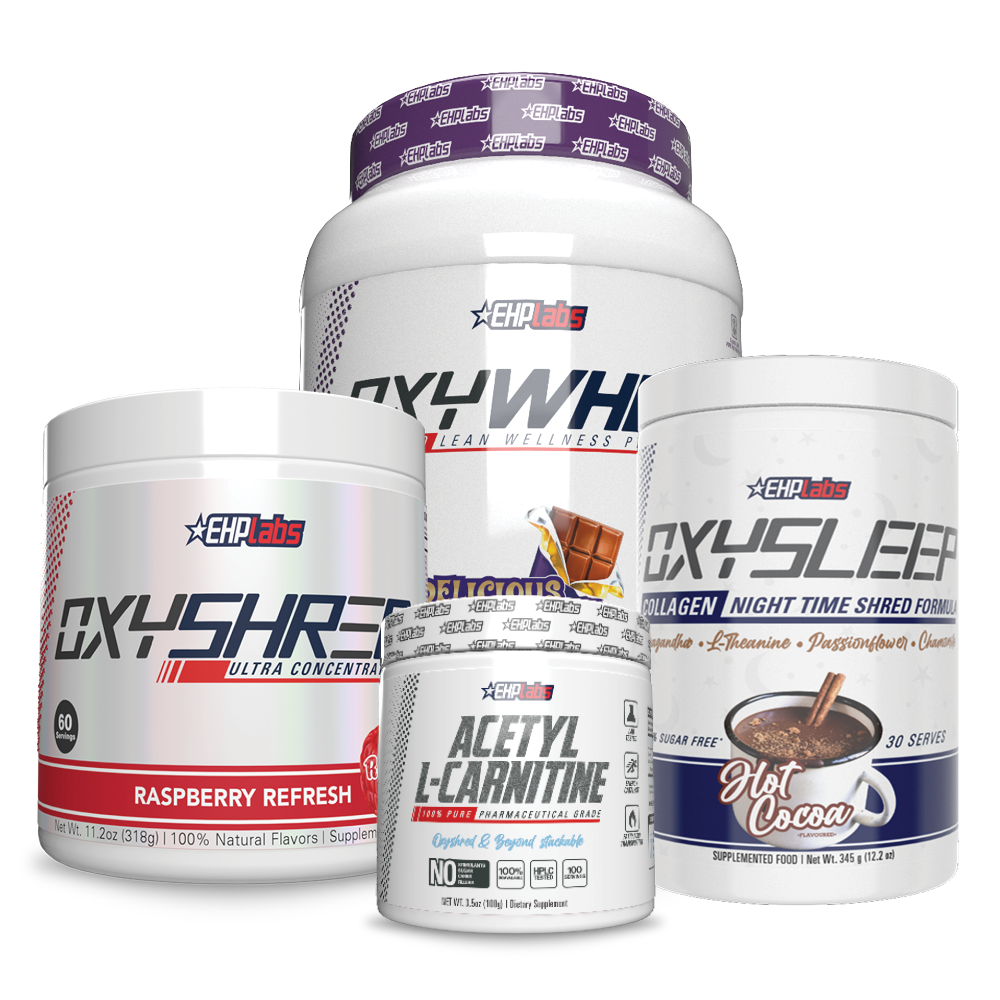 Weight Loss Bundle - Advanced
Regular price
Was
Sale price

$219.00
Unit price
per
Out of Stock
Shipping, Returns & Payment Info
Shipping Information

Shipping costs:

We offer FREE domestic shipping within Canada for orders over $150. For orders under $150, shipping starts at just $9.95.

For a detailed breakdown of our shipping rates, please refer to our shipping policy page.

Order processing time:

Once we receive your order, our team will promptly pick, pack, and process it within 48 business hours*. You'll receive an email with your tracking details as soon as your order has been processed, so you can stay updated on its delivery.

Estimated delivery time:

Delivery times vary depending on your location. Here are some estimated delivery times for domestic orders within Canada.

Standard Shipping: 1-8 business days

For a detailed breakdown of our delivery estimates, please refer to our shipping policy page.

With our affordable shipping rates and speedy processing times, you can expect your EHPlabs order to arrive at your doorstep in no time.
Exchanges & Returns

We're here to help make sure you're completely satisfied with your purchase from EHPlabs!

If for any reason you receive a damaged or incorrect product, simply let us know within 7 days of delivery and we'll be happy to replace it or refund your purchase price.You can start a return by emailing us at contact@ehplabs.com.

If you receive a defective or damaged item, don't worry! Just contact us right away and we'll work with you to evaluate the issue and make things right. Please take a photo of the issue so we can quickly resolve the problem.

While we're unable to accept returns on certain items, such as opened supplements, clearance items, loyalty points, and gift cards, we're always happy to help with any questions or concerns you have about your specific order.

And don't worry, we're always here to help with exchanges as well! Just return the original item and make a separate purchase for the new one.

We'll be sure to notify you once we receive and inspect your return. If approved, we'll refund your original payment method within 10 business days of receipt. If you have any questions about the process and if it's been more than 15 business days since your return was approved, please don't hesitate to contact us at contact@ehplabs.com.

We're always here to help.
Payment

Shopping has never been easier with our flexible payment options.

Choose from our range of convenient payment methods, including Buy Now, Pay Later services such as AfterPay.

If you prefer to pay on the spot, we also accept all major credit cards, including AMEX, Mastercard, and VISA. With so many options to choose from, you can shop with confidence and convenience.
OxyShred
Achieve your goals with this scientifically researched shredding formula containing proven ingredients that help promote fat loss, boost immunity and provide a natural energy boost. Oxyshred Ultra Concentration comes in delicious flavours for all tastes, and ticks all the boxes for those wanting to shred and reach their full potential!
Read more
Buy Now, Pay Later Options
4 Interest-free Payments
Pay every 2 weeks